Customers need a convenient place and method to access their own cash without writing a paper check. While ATMs are a good solution, many banks are reluctant to place their ATMs inside a retail business. Merchants look to use a stand-alone ATM program as a method of increasing loyalty, store traffic, and sales volume. TekCard offers a variety of different methods for ATM placement ranging from free placement, leasing, or a buyout option. Contact us today to learn more!
Increase in-store purchases
Cost-effective ATM program for retail locations
Complete turn-key solution
Purchase and lease options available
Competitive equipment pricing
Dedicated support resources, including customer service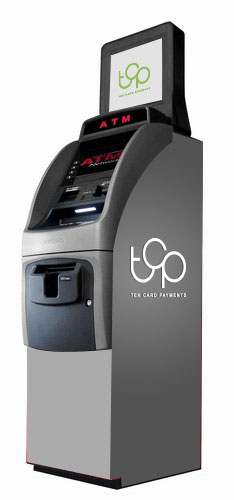 How It All Works
Brand new ATM
Free on-site delivery, installation, and training
Free indoor/outdoor lighted sign package
Free 24 hour service and support
Free banking and real time online monitoring

You keep the machine loaded with money
You keep the machine filled with $20 bills ($500-$1000 on average).
Your customers withdraw money from your ATM.
We deposit the money they have taken out the next day into your account free of charge.
When your machine gets low, you fill it up again (You never need to keep more than $1500 in your ATM at any time because if your ATM runs empty, most of those $20's ended up in your cash register and you can just walk them over to your ATM and load them up again.)
How you benefit from an ATM?
You can now take all credit and debit cards
You no longer have to take bad checks
You make money from the transaction fee
You put more cash in your customers hands to spend

What we need from you?
You need to pick out a spot for your ATM(2 feet by 2 feet)
You need to provide a power outlet within 2 feet of the ATM
You need to provide a phone line or internet connection for the ATM.
- Phone line does not need to be dedicated, split it off of an existing phone line
- ATM dials into our 800 number, no long distance charges to you

How does TekCard make money?
We sell you the package at our cost and break even on the sale of the ATM to you.
We make money off of every transaction done by your customer, but from their bank and not the customer themselves. This is referred to as a network fee or interchange fee, paid to us by the credit card companies. (Cirrus, Star, Plus, Pulse) are names of the networks.
We make money with you and not off of you.

What happens if your machine breaks down?
All machines come with a one year parts and labor warranty.
You call the 800 number and we come out and fix it immediately.
We provide an optional insurance plan.

With this plan you keep 90% of the surcharge off of each transaction instead of 100%, but you receive free service, parts, and repairs for life, you will never see a bill or have an out of pocket cost to you ever.
Other benefits you probably didn't know
You can write off the entire price of your ATM (under business expenses on your tax form.)
Your business insurance premium will not go up. (ATM's are covered under code UL291 if you want to talk to your insurance agent.)